Mike
Mutant Maggots

Gender
Male
Hair color
Dark brown
Eye color
Brown
Episode Eliminated
Grand Chef Auto
Place
6th
Relationship
Zoey (In love with and in a relationship), Anne Maria (Vito, ended)
Family
Uncle Vinnie
Friends
Brick, Cameron, Sam, Zoey
Enemies
Anne Maria, Jo, Scott
Fear
Giant Gophers
Talent
Dancing, Ballet,
Nicknames

Saved by a Girl

, Vito, Svetlana, Chester
Voice actor
Cory Doran
Mike é multiplo é por que ele faz personagens svetlana uma dançarina de balé,vitor o gatão,manitoba smith e chester.
mike ele é legal só por que ele encontrou o amor da sua vida zoey mas ele teve com ane marie por que virou o vitor se o mike fica sem camisa ele vira o vitor gatão voces viram isso no episódio traíras a vistas com a participação a ex-drama total bridgete.mas se bota um chapeu na cabeça ele vira manitoba smith se ele pular ele vira svetlana se joga algo nele ele vira chester.mas mike fez uma aliança com scotty o trapaceiro mas se mike não scotty conta para zoey todas as suas personagens.voces viram com participação do ex-drama total bad boy duncan.scotty eliminou o mike .na mina mike liderou a equipe para encontra o participante ezekiel da ilha dos desafios e participou do drama total turne mundial e virou um monstro. já em drama total todas as estrelas mike participou e ficou na equipe hamster heroicos.no episódio medo do mal mike quero dizer manitoba descobriu que scotty estava trapaceando mas o no final a pá do scotty bateu na cabeça do mike então no seu subconsciente manitoba avisa a chester,vitor e svetlana que o mal está vindo então os pensamentos bons do mike ficaram ruins mas no spa de noite mike do mal quebrou o video-game do sam mas ele volta a fica bom mas no desafio de comer o mike quebrou o celular da sierra.na noite da lua azul duncan diz que conhece mike de algum lugar o lua azul o mike do mal sentiu livre então mike descidiu eliminar cameron e mike bateu em izzy a aranha gigante.mas ele escondeu os votos de cameron no travesseiro de alejandro.mike quebrou os barcos e tambem tentou martela a cabeça da gwen então no ultimo episódio mike do mal é destruido o mike volta a ser bom e venceu .
drama total a vingança da ilha 4 temporada 2012
larvas mutantesmike,dakota,jo,relampago,cameron,sam e ane marie
drama total todas as estrelas 5 temporada 2013
hamster heroicos mike,zoey,sam,duncan,lindsay e sierra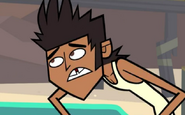 Mike's design is one of the most changed designs of the show, along with Cameron, Zoey, Dawn and Dakota. His previous design consisted of a long green shirt, black pants, blond spiky hair, dotted eyes, and a light skin color. However, his design was recolored, with a long teal shirt, long blue pants, tanned skin, brown eyes, and dark brown hair.
Total Drama Online Interview
Edit
Q:Do you have secrets?
A:Yeah,I got Multiple Personality Disorden
Q: What's your best quality?
A: I guess I get along with everyone I like to help… You young whippersnappers! Always needing help!
Q: Faves? (Music, color, movie, food)
A: In my day, we made our own music!
Color? We never had colors! The world was black, white and grey!
There weren't any movies, they were… Da! Yes! I love-a da movies!
Whatever keeps me in tip-top shape!
Q: Describe your craziest dream.
A: I was doing a dismount and I fell! It was so crazy! I… Wow. I'm back! Uh, yeah. I don't really remember my dreams.
Q: Best memory from childhood?
A: I can't say I had a great memory. I think riding my bike around my house was good.
Q: Most embarrassing moment at school?
A: Well, um… I think a friend came to visit me once, it was kind of embarrassing. I...
Q: Describe the first job you ever had.
A: Hey hey. My first job? I was workin' with my Uncle Vinnie fixin' up old cars, that's what.
Q: Ten years from now, what are you doing?
A: I got my own body shop, big house and… Arrgh! And a pile o' gold from the mines!
Q: My dream date would be with ___________, doing what?
A: With my wonderful wife up in the Yukon gone prospectin'!
Q: It's the last day on earth. In one sentence, what would you do?
A: Depends who is at the wheel I guess.
Q:Name the 2 only of your personalities that are married
A:Svetlana and Manitoba smith
Audition Tapes
Edit
In Mike audition, he talks about why he should be on Total Drama; for one he has a lot of talents to offer. He can be agile and graceful, but also tough, scrappy, and a king's senses of a wilderness survivor, he's ready to win Total Drama: Revenge of the Island, not caring what his doctor says. He then repeats himself, and says psychiatrist, but he messes up again and asks for a do-over.
Mike may be similar to Paper from Inanimate Insanity, both having alternate personalities and defeating them in the end in similar ways.
According to the Cartoon Network Upfront Line-up and the Cakes Entertainment page for Total Drama: Revenge of the Island, Mike is described as the multiple personality.
According to Todd Kauffman, Mike is supposed to be "crazy" in the season.
According to Todd Kauffman, he will be involved in some sort of triangle between himself, Anne Maria, and Zoey.
Mike's biography hints at his various personas which he uses throughout Total Drama: Revenge of the Island.
Mike is the first contestant to use the confessional in Total Drama: Revenge of the Island. The second is Zoey and she is directly after him.
He and a previous Total Drama contestant, Cody, are the only contestants to have a gap between their teeth. Heather has one also, but it's been replaced.
Mike is the only contestant, the other being Trent, is Total Drama history to have a disorder.
Mike doesn't just change personalities when he is awake; he does it in his sleep as well.
Mike's personalities shown so far are:

A nice and slightly awkward teen (dominant personality).
An old man by the name of Chester (Activated when frustrated)
A Russian gymnast named Svetlana (Activitated when there is a need for athletics or when someone mentions gymnastics)
A cocky, muscular man with an Italian accent by the name of Vito (Activated when his shirt rips off)
A parody of the crocodile hunter with the name sd Mantioba Smith (Activated when he puts on a hat)

Some of Mike's alternate personalities give him abilities he would not normally have (E.G impressive acrobatics).
Mike's original design is similar to Teletoon's animated series main character, Jimmy Two-Shoes.

Coincidently, they are both voiced by Cory Doran.